Another overdue edition of artists you should know but just with a different title. These are individuals whose works celebrate blackness, speak loudly the things often whispered and make the invisible visible. A short and brief post, I do hope you manage to explore the artworks of these artists for yourselves be it via google or their social media handles.
---
Zanele Muholi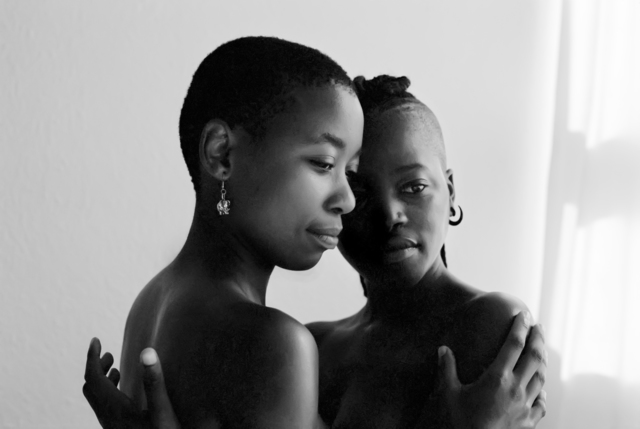 Muholi (b. 1972) self-describes as a visual-activist. They are a South African artist who uses a number of mediums, mainly photography, to ignite conversations about black lesbian, gay, intersex and transgender identities in South Africa. Although South African LGBT individuals ought to be protected, by law, from discrimination based on their sexual orientation and can get married, there are numerous cases of the LGBT community being harassed and abused as well as killed. Muholi shines the light on their very existence in South Africa as if to shout the words "WE ARE HERE AND WE ARE QUEER" as a form of resistance against the asinine. An award-winning photographer, Muholi is known for their striking black and white portraits. Their exhibition, previously had at Autograph ABP,  "Zanele Muholi: Somnyama Ngonyama, Hail The Dark Lioness" is currently on show at the Spelman College Museum of Fine Art in Atlanta till December 8th. 2018, curated by Renée Mussai.
Muholi's works can be found on Twitter, Instagram and via her website.
Delita Martin
Martin is an artist based in Texas. Her art is made as a visual language to speak the truths of marginalised and disenfranchised black women. In her prints, African textiles are picked up and used to speak to the connection to the African Diaspora despite the history that — or tried to, I should say, sever the link. Her figures/subjects are unapologetic black women who, as Martin portrays them, revel in their blackness, giving a striking gaze to the viewer directly or indirectly. Martin ensures that her subjects display the variety of black women and dispels the homogeneity that is latent when talking about black women.  This focus on us urges viewers to see us for who we are and to consider our humanity.
Martin's works can be found on Facebook and via her website.
Titus Kaphar
Kaphar (b. 1976) is an American painter and sculptor whose works I came across during my daily Instagram scrolling and searching. What Kaphar does with his works is shift the gaze, be it momentarily, to subjects that are often in the periphery and never centred in historical paintings. In his TED Talk that has garnered over a million views, Kaphar asks poignant questions such as how is it that one could get the details of the tailor who made the garments worn by the subjects but little can be found on the black individuals that make an appearance. He reconfigures and recreates art history by including and centring black individuals. As it is with every facet of society, whiteness and maleness pervade and the art industry is no exception thus, what Kaphar does is tilt the focus, reprogramme the thinking, and ensure that black people are seen.
You can see more of Kaphar's works via his website and Jack Shainman.
---
Be sure to follow me on all my social media handles and subscribe for notifications on a new post. Look out for the Artist Of The Month for September coming soon.